Mage Wars Academy: Elementalist
The Elementalist enrolls into the Academy!
"In the beginning the Elemental Lords emerged from the Void –fires roared and the depths rumbled. Through veneration and communion with these ancient lords, the Elementalists harness Air, Earth, Fire, and Water in an eternal war to correct the blasphemes of humankind and bring all living into the order of the elements."
Out of stock
Email when stock available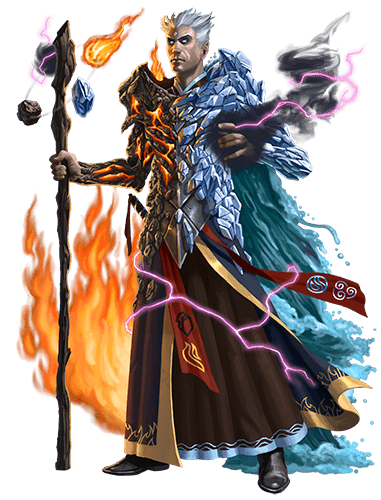 Aspiring young mages from all the nations of Etheria flock to Sistarra, the Grand Academy of Magic. Students are trained in the ancient secrets of magic, and choose which path they will follow. Those who hope to gradate must hone their knowledge and skills, and compete in combat to prove their worth.
Through communion with the Elemental Lords, the Elementalist gained mastery of air, earth, fire, and water. He can craft golems as well as summon pure elemental spirits and raw elemental attacks as well.
2 Mage Cards
70 Spell Cards
Game Markers
Rules and Codex