"Contained within these volumes is a secret many great people have devoted their entire lives to unearthing, and always in vain. It is a secret I would have taken with me to the grave, except that it is, in more ways than one, our family's legacy, and thus rightfully belongs with you…"
Arcane Wonders (Texas, USA), in partnership with Hatch Escapes (California, USA) and Prodigal Inc (California, USA), is excited to announce that Arcane Wonders will be distributing the retail version of the upcoming 3 volume narrative game: "Mother of Frankenstein".
Inspired by the life of Mary Shelley, author of Frankenstein, Mother of Frankenstein is divided across three games or "volumes" of the story, offering 1-6 players between 10 and 15 hours of puzzles to solve, 2D and 3D jigsaws to construct, gorgeous documents to parse, and mysterious artifacts to examine, all wrapped up in a shocking reconception of the true story behind Shelley's famous monster.
MoF was designed by New York Times bestselling novelist Tommy Wallach and Terry Pettigrew-Rolapp, the duo behind Hatch Escapes and LA Magazine's #1 escape room in Los Angeles, "Lab Rat". It is being produced by Prodigal, lead producers of Grammy-winning and fifteen-time Tony nominated Jagged Little Pill and TV Series Dirk Gently's Holistic Detective Agency.  The game was conceived by Wallach, Pettigrew-Rolapp, and Arvind Ethan David of Prodigal.
First launched on Kickstarter September 2020, the game raised nearly $250,000 and will deliver to backers before the retail release in 2022.
The game tells the story via "The Shelley Volumes," three collections of puzzles by Mary Shelley to her son, Percy Shelley, as a means of conveying to him a great secret.
In Volume One, players learn of Mary Shelley's childhood, following her education at the hands of her father and reading her correspondence with the great poet Percy Shelley, with whom she embarks on a torrid love affair. In Volume Two, Mary and Percy proceed to Castle Frankenstein, where Mary learns the unholy art of reanimation. In Volume Three, players will build an enormous 3D model of Castle Frankenstein and use it to solve the last batch of puzzles and reveal Mary's dark secret.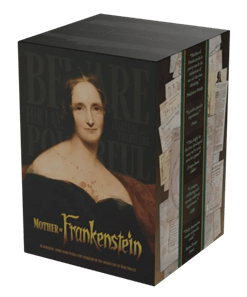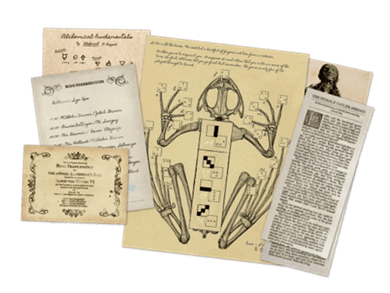 "We are very excited to bring this game to a wider audience. From the first time we played Volume 1 we were instantly hooked and wanting to play more. This is truly a one-of-a-kind experience contained within the volumes of this game!" – Arcane Wonders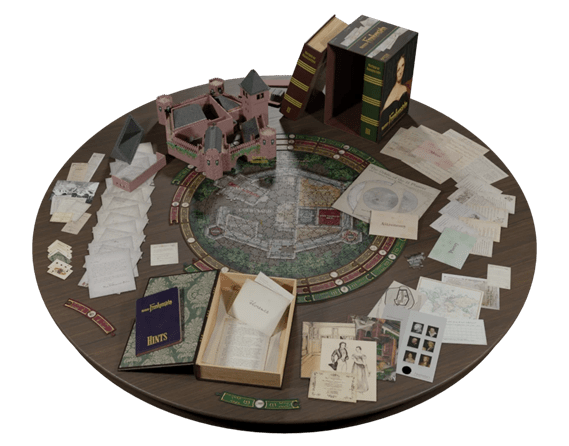 About Arcane Wonders:
Arcane Wonders publishes strategic, competitive, and social board & card games to enjoy with your friends including the exclusive Dice Tower Essentials line of games.
Since 2012, Arcane Wonders has released many award-winning games, including best-selling "Mage Wars Arena" and "Mage Wars Academy" games, Air, Land & Sea, Smartphone Inc, and the UK Games Expo 2016 Best Abstract winner, "Onitama".
About Hatch Escapes:
Hatch Escapes was founded in Los Angeles, CA in 2017 by childhood friends Terry Pettigrew-Rolapp and Tommy Wallach. Their first room, Lab Rat, was ranked the 8th best escape room in the world. Their second room, The Ladder, featuring a fully replayable narrative and starring Tony Revolori (The Grand Budapest Hotel) and Jordan Belfi (Entourage, All-American), was the most-funded escape room Kickstarter campaign in the site's history.
About Prodigal Inc
Prodigal is an entertainment company based in Los Angeles, California that tells stories across television, film, comics, audio and theatre, with a first look deal for TV and film with Warner Media & J.J.Abrams' Bad Robot. Head by writer & producer Arvind Ethan David, Prodigal is known for their work as lead producers of Grammy-winning and fifteen-time Tony nominated Jagged Little Pill, BBC America/Netflix's TV Series Dirk Gently's Holistic Detective Agency, and bestselling Audible Original The Neil Gaiman at the End of the Universe among much else. Brittany Chapman is producing Mother of Frankenstein for Prodigal.
Contacts:
Arcane Wonders
5250 Hwy 78
Suite 750-214
Sachse, TX 75048
Website: www.arcanewonders.com
Hatch Escapes
1919 3rd Ave
Los Angeles, CA 90018
Website: www.hatchescapes.com
Prodigal, Inc
92 2nd St
Suite E
Buellton, CA 93427
Website: www.prodigal.tv