Your creepy Neighbor has something locked up in their basement, and it's up to you and your friends to reveal their plot. You'll need to use Objects you find around the Neighbor's house to locate three different Keys, but there is one problem: some of your friends are secretly villainous Neighbors in disguise! Trade and cooperate as one of the Kids or steal and lie your way to victory as one of the Neighbors in this thrilling social-mystery card game where you're never quite sure who's on your side.
For Immediate Release
 Arcane Wonders (Texas, USA) in partnership with tinyBuild (Washington, USA), Evolution (California, USA) and Genuine Entertainment (California, USA) are excited to announce the upcoming tabletop game Hello Neighbor: The Secret Neighbor Party Game designed by Ariel Rubin and Juliana Patel.
Building off the wildly successful Hello Neighbor and Secret Neighbor video games this social deduction game brings the world of Hello Neighbor to the real world. Plucking from classics like Werewolf and The Resistance, this new game requires no narrator and no eliminations, ensuring everyone at the table remains engaged!
5-10 players take on the roles of either one of the neighborhood kids, the treacherous neighbor or even a secret neighbor. As one of the kids you will need to use your items wisely if you are to locate the keys and unlock the door to win, but beware as not only are the neighbors at the table trying to trick you into voting to let them use a key, but one of your fellow kids is actually a SECRET NEIGHBOR!
If even one neighbor convinces the kids to let them use a key then the neighbors have won, so the kids must use all of their deduction skills to figure who they can trust!
Hello Neighbor: The Secret Neighbor Party Game will be available everywhere early October 2020 with a limited number of copies available during GenCon Virtual.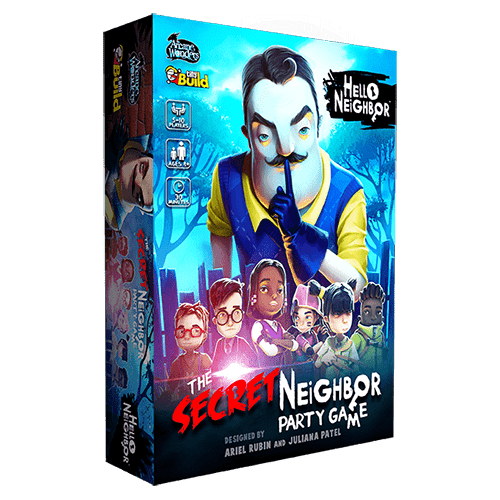 Product Information:
Hello Neighbor: The Secret Neighbor Party Game
Ages 8+, 30 Minutes, 5-10 Players
SKU: AWG AW06HN
MSRP: $19.99
Street Date: October 7, 2020
About Arcane Wonders:
Arcane Wonders publishes strategic, competitive, and social board & card games to enjoy with your friends including the exclusive Dice Tower Essentials line of games.
Since 2012, Arcane Wonders has released many award-winning games, including best-selling "Mage Wars Arena" and "Mage Wars Academy" games, Air, Land & Sea and UK Games Expo 2016 Best Abstract winner: "Onitama".
About tinyBuild:
tinyBuild is a Seattle-based indie label behind the Hello Neighbor franchise and over 30 renowned titles, including Graveyard Keeper, SpeedRunners and Party Hard. With additional development offices in Amsterdam, Netherlands,  Riga, Latvia, and Boise, Idaho, tinyBuild is rapidly building a portfolio of fun, high-quality games across multiple platforms.
About Ariel Rubin and Juliana Moreno Patel
The Wild Optimists, Juliana Moreno Patel and Ariel Rubin, are puzzle and game designers best known for their tabletop games, Escape Room In A Box: The Werewolf Experiment, Escape Room In A Box: Flashback, and Vampire.Pizza.  They have also created games and puzzles across a wide variety of formats for clients like Sony, Universal, Fox, the Santa Monica Pier, the Electric Forest Music Festival, and many more.
About Evolution
Evolution has the expertise to fully monetize all forms of intellectual properties through licensing and merchandising, digital monetization, promotions, location-based entertainment, retail development and brand management on a global basis.  Evolution is also adept at managing manufacturing and distribution, which enables it to develop a wide variety of intellectual properties from concept to the retail shelf.
About Genuine Entertainment:
Genuine Entertainment is a leading media production & brand management company for the latest and greatest genre entertainment brands. Experts in strategic licensing and franchise development, we package and produce award-winning, best-selling books, comics, games, and geekery that grow beloved brands and fandoms in new markets and ancillary media alongside best-in-class partners. A versatile brand builder across all corners of pop culture, recent quests & collabs include the hit Alien RPG with Free League Publishing (2020 ENnie and Origins Award nominee for Best Game and Best RPG); the Altered Carbon RPG with Hunters Entertainment; The Art and Soul of Blade Runner 2049 art book with NECA; the Blade Runner: Enhanced Edition video game with Nightdive Studios; the Dune master tabletop gaming license, including GF9's top-selling Dune board game (2020 Golden Geek Award for Best Thematic Game) and the Dune: Adventures in the Imperium RPG from Modiphius; the Hello Neighbor: The Secret Neighbor Party Game with Arcane Wonders; the Vampire: The Masquerade Expandable Card Game with Renegade Game Studios; and comic books for Vampire: The Masquerade and Voyage to the Stars from Vault and IDW respectively. Come work and play at genuineent.com.
Contacts:
Arcane Wonders
Website: www.arcanewonders.com
tinyBuild
Website: https://www.tinybuild.com/
Genuine Entertainment
Website: https://www.genuineent.com
Ariel Rubin and Juliana Patel (The Wild Optimists)
Website: https://www.wildoptimists.com/
Evolution